TARIFA MAX KITESURFING SCHOOL...since 1998 00 34 696558227

Welcome to Tarifa Max Kitesurfing where you will find IKO kitesurfing instructors and accommodation packages in Tarifa, the most southern point of Spain; the kite surfing Mecca of the Northern Hemisphere.

We offer all year round tailor-made kiteboarding courses and accommodation packages, in our new Kite House, to suit any budget and any group size. Come and share our passion for kitesurfing and Tarifa, you will be on the best hand.

Whether you're a complete beginner, up and riding or a certified kite surf Pro, we can accommodate you and your needs.... Français español

Tarifa Max Kitesurfing School has been giving kite surfing courses since 1998 making us one of the most experienced schools with proven techniques to ensure you learn to kitesurf quickly, safely and with a lot of fun.

We offer a daily free shuttle service to the kite beach from our premises in the RIP CURL shop, in town in front of the petrol station, or B3 Watersports shop, to ensure you get to the kitesurfing spot beach as quickly and easily as possible.
| | | |
| --- | --- | --- |
| | | |
| | | |
Don't just think about it...do it!! And let the Tarifa Max Kitesurfing team take care of the details.
OUR COMMITMENT...YOUR INSTRUCTOR WITH YOU IN THE WATER!

"
Excellent kite school with high customer service!
!"
It was really a plesure to work with Max Kitesurf School as his instructors Robert and Carlos. So friendly people with huge passion and experience with Kite surfing.
At all time you felt very welcome!
I can give my best recommendations
Madsrink Denmark Reviewed 3 October 2016
The difference with our school is that the instructor will be with you in the water dedicated to achieve the best progession. The teacher will be there to help you with the board giving you the possibility to get up on the board from the start.
Our experience makes the difference! Teaching kitesurfing in Tarifa since 1998!
We have 2 rescue boats at our disposition for everyone to enjoy riding safely....and always on call in Tarifa is the life guard rescue boat from the Red Cross. So, no worries! Just enjoy yourself and let us take care of everything for you.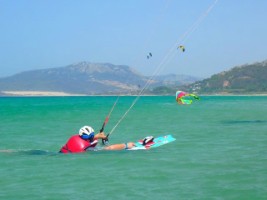 "Spent a few says in wonderful Tarifa with some friends and decided to learn some Kite surfing. Tarifa Max were superb and highly professional. Our tutor Rachel was knowledgeable and patient and made the whole course terrific fun!! Highly recommended!!" Tom Holmes-Dowkes
"Excellent instructor, good equipment and lots of fun"
Very much enjoyed our kitesurfing lessons with Tarifa Max. My girlfriend and I had 5 days of lessons with instructor Rachel. She was very professional, safety aware and taught us well. I'm now at the level were i'm comfortable kitesurfing on my own. I just bought my own equipment and can now enjoy many more kitesurfing trips!
Pieter B Reviewed 13 September 2016

"Outstanding!!!"
Our daughter and I followed a three day course with Max kitesurfschool.
Outstanding!!
They have been teaching a long time and were one of the first schools in Tarifa. It is quality they are after, not just filling pockets.

Rachel, Robert and Carlos were very good instructors, professional, dedicated and very safety minded.
In the background Mathew was as a spider in the web, keeping contact through whatsapp and trying to find sollutions for our last day when the wind was rather light. And he did!
We will be back and I recommend anybody who is interested in good instruction with absolute value for money to contact them..
L K Benebroek May 2016
| | | | |
| --- | --- | --- | --- |
| | | | |
| Learn to rig, launch and control 4 line kite | Control and take power with kite in the water. | Learn the waterstart and start riding. | Come and have some fun! |
Our packages include instruction for beginners to intermediate riders, who need a confidence boost, as well as equipment rental, supervision and advanced coaching from our team riders to help you nail whatever trick you've been working on.
Book a week course for as little as 285€
| | | | |
| --- | --- | --- | --- |
| | Find us on Facebook for the lastest info & some great offers.. | | At the end of your kite lesson you'll get your own official IKO card. |
Where to find us...
We are based in two locations:
- RIP CURL shop, on the main Street of Tarifa, Calle Batalla del Salado n.76, in front of the bus station and the Repsol petrol station. Address: Tarifa Max Kitesurfing, Calle Batalla del Salado no. 76 (RIP CURL), Tarifa, Cadiz, Spain
- B3 Water Sport pro shop, at the entrance of Tarifa just behind the Dia super market. Addrees: Tarifa Max Kitesurfing (B3), Calle Castellar de la Frontera, poligono la vega, 11380 Tarifa.
Tarifa Max Kitesurfing School, Calle Batalla del Salado 76,

Tarifa, Cadiz, Spain

The kite school is based in the RIP CURL shop on the main road

of Tarifa just opposite the bus station and Repsol petrol station.

B3 Tarifa Max Kitesurfing, Calle Catellar De La Frontera,

Poligono La Vega, Tarifa, Cadiz, Spain

The kite school is also based in the B3 shop in the Industrial

zone 'La Vega' in Tarifa just behind the Día supermarket
Tarifa is serviced by 4 airports - Malaga, Seville, Jerez and the closest which is Gibraltar (just 40 minutes drive). The most commonly used however is Malaga and most British airports operate more than one flight per day there. The main airlines operating this service are Easyjet, Ryanair, Monarch and British Airways to name but a few and once you arrive in Malaga it's only an hour and half drive to Tarifa!
Getting from Malaga to Tarifa is very easy and there are a number of options. The cheapest is by bus and there is a regular service operating from Malaga airport, via Algeciras, to Tarifa. Grab the shuttle bus just outside the arrival terminal to Malaga centre. Once there take the direct bus to Algeciras bus station and from there the bus to Tarifa. The two companies running this service are COMES and portillo.
There are also a number of large car rental companies whose desks are to be found downstairs below the main airport terminal with a vast array of vehicles of all sizes to accommodate your group. Prices start from as little as 20€ a day. Find the best deal in:www.doyouspain.com
Also check out Malaga Autos and SIXT car rentals:
Have a look at the photos of the courses day by day and get all the news in our new blog:
http://maxkitesurfing.blogspot.com.es/
Special offer course 18h/h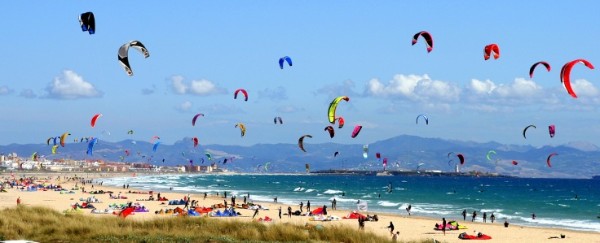 You can find us on Need2Kite for more information about our school and Tarifa.
See you on the beach!
---
For any more information contact us: +34 696558227 info@tarifamax.net